7 work-outs die gemaakt zijn om voor de televisie te doen
Je wilt wel gaan sporten (nu ja), maar je wilt ook heel graag hersendood in de zetel naar 'Friends' liggen kijken. Snappen we. Dankzij deze 7 work-outs combineer je beide – en erna trek je gewoon een zak chips open om verder te kijken. #balans
Work-outs voor de televisie
Beeld je even je favoriete serie aller tijden in. Wedden dat je meteen iconische personages, scenes of quotes kunt bedenken? Sportieve bingers hebben die op een rijtje gezet en aan fitnessoefeningen gekoppeld. Denk: 20 crunches wanneer Joey een stom grapje maakt (hoezo stom???) of 20 seconden dansen wanneer Harry Potter de Gouden Snaai vangt.
Het voordeel? Je krijgt strakke billen terwijl je lacht met Chandler en co. Het nadeel? De kans is groot dat je Chandler helemaal niet meer zo grappig vindt als je intussen aan het afzien bent. ('It's so hard to care when you're this relaxed, Chandler? Echt???')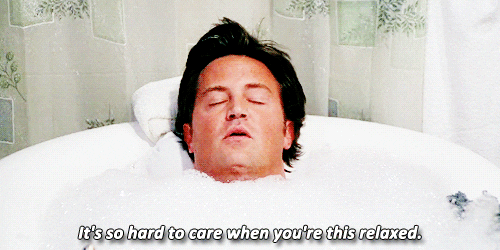 Aan de andere kant: afzien mét Chandler is beter dan afzien zonder hem. En dat geldt ook voor de rest van deze televisie-work-outs. Je kunt de work-outs ook gemakkelijk aanpassen aan je eigen wensen en noden. Wil je vooral je benen trainen? Vervang dan pompen door squats. Is de work-out te intensief? Doe dan 10 in plaats van 15 sit-ups (now we're talking).
Hieronder vind je alvast een overzicht van onze favorieten. Ontbreekt jouw lievelingsserie? Doe dan wat inspiratie op en maak je eigen binge-worthy work-out. (En vooruit dan maar: 'Eet een chipje voor elke dode in 'Game of Thrones' telt ook.)
1. 'Friends'
Toevoeging: telkens Ross 'We were on a break' zegt, doe je 25 seconden plank.
2. 'Grey's Anatomy'
Deze work-out is extra uitdagend omdat je door je tranen heen nog moet kunnen lezen wat je precies moet doen.
3. 'The Walking Dead'
Extra pluspunt: na deze work-out ben je zeker klaar om wat zombies te verslaan. Gewoon voor het geval dat.
4. 'Gilmore Girls'
Na zeven seizoenen en het laatste reünie-seizoen heb jij benen van staal.
5. 'The Office'
Deze work-out is iets rustiger. Dat mag ook wel want met al dat gebulderlach doe je toch al non-stop buikspieroefeningen.
6. 'Doctor Who'
Hoe ga je anders de Daleks verslaan?
7. 'Harry Potter'
Oke, dit is een film en geen serie, maar 'Harry Potter' mocht niet ontbreken in het lijstje. Beeld je even in wat een 'Harry Potter'-marathon zou doen voor je figuur. (En je humeur, maar dat is dan weer een ander verhaal.)
Of je houdt het bij tien minuutjes touwtjespringen voor de televisie. Is ook héél effectief en ben je sneller vanaf.