10 slimme tatoeages die ook wel een beetje grappig zijn
Niet alle tattoos zijn diepzinnig en betekenisvol. Soms mag het gewoon een leuke visuele grap zijn, of een doordachte oplossing voor een fysiek ongemak. Hieronder vind je tien slimme tatoeages ter inspiratie. Of gewoon om eens goed te lachen. 
1. Deze feilloze cover-up
Littekens zijn niets om je over te schamen, maar soms zou je willen dat mensen er niet zo naar staarden. In dit geval beginnen ze gewoon over je tattoo te praten, problem solved. 
2. En deze:
A very ladylike solution, deze dry martini. Volgens ons doet het wel pijn om over een moedervlek heen te tatoeëren.
3. De tattoo voor de hobbyvisser
Vissen lijkt ons niet de meest spannende hobby, maar deze tatoeage is wel goed gevonden. #standoutforyourpassion
4. Deze leuke voor de (amateur-)fotograaf
Een mooie ode aan jouw grootste passie. Enige nadeel is dat je telkens vijf minuten niets ziet als je je tattoo wil tonen.
5. Dit gekke mannetje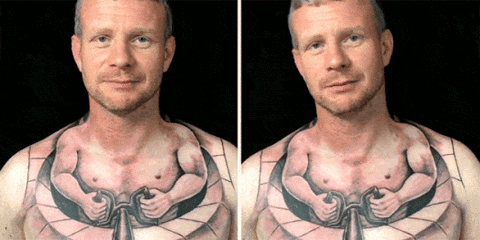 Niet écht aantrekkelijk, maar we kunnen ons voorstellen dat hij er zelf ontzettend blij mee is.
6. Scoren met je derde tepel
Als je als man gezegend bent met niet twee, maar drie totaal nutteloze tepels, kan je a) altijd je T-shirt aan houden of b) keiveel zelfspot hebben. Moet kunnen.
7. Of met deze giraf?
Hier zijn geen woorden voor.
8. Dit sterrenbeeld
Minimalistische tatoeage met maximaal resultaat. Wie veel sproeten heeft kan zich best wel wat inhouden, je hoeft geen kleurboek voor driejarigen te worden.
9. Wederom een tattoo vol zelfspot
De geknipte tatoeage voor iemand met aan elkaar gegroeide teentjes.
10. De geef-je-eenhoorn-een-lift
Eerlijk, wij zijn dol op eenhoorns. En als we ooit een eenhoorn op ons lichaam zouden laten vereeuwigen zou het deze zijn, maar dan wel in glitterinkt.
Bonus: deze dadjoke
Laat ons hopen dat jouw vader dit nooit doet, maar 't is eigenlijk wel goed gevonden, toch? En een heel klein vies.